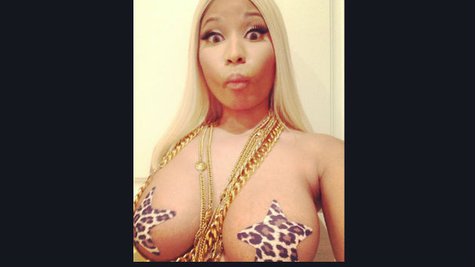 Nicki Minaj is known for pushing the envelope, so it should come as no surprise that the rapper shared a topless image of herself on Instagram wearing gold chains and cheetah-print star pasties covering her breasts.
"Should I add #Pasties to the Spring Collection????" Nicki asked her Barbz, referencing her debut Nicki Minaj Collection, which launched at Kmart and ShopYourWay.com earlier this week.
She added another topless shot of herself making her signature crazy expression. She wrote in the caption, " Putting this one on a T-Shirt."
Over the summer, Nicki implemented Thong Thursdays , posted a video of herself twerking in a swimming pool, and posted a selfie with her hair covering her exposed breasts.
Copyright 2013 ABC News Radio