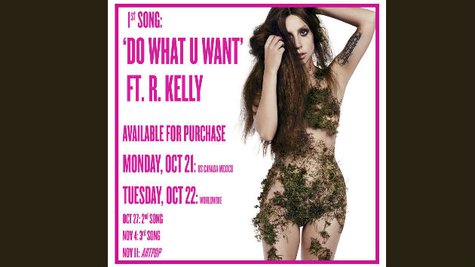 You can now hear a preview of yet another new track from Lady Gaga's upcoming album, ARTPOP . This time, it's the track "Do What U Want," featuring R. Kelly, featured in a new commercial for Beats by Dr. Dre headphones.
The ad features the song playing while we see close-up shots of the latest version of the headphones. Then the music stops, and we cut to a shot of a guy in a store listening with the headphones, while an employee asks, "Whaddya think?" "Whew," says the customer, removing the headphones. "I know, right?" replies the employee, shaking his head in disbelief. The music starts up again, more headphones shots, and then a final look at the customer and the employee, both jamming out to the song.
While not the official second single from ARTPOP -- that would be "Venus" -- "Do What U Want" will be available for purchase on October 21 in the U.S., Canada and Mexico, and October 22 worldwide. On October 27, Gaga will release another new song, and November 4 will bring yet another. November 11 is the release date of ARTPOP.
Copyright 2013 ABC News Radio