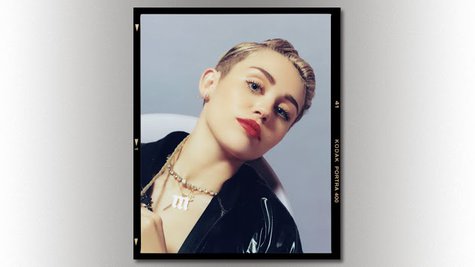 Even though Miley Cyrus ' new album Bangerz didn't break any records in its first week, sales-wise, it still debuted at#1, and gave everyone's favorite tongue-waggler a couple of notches on her belt when it comes to chart feats.
As Yahoo! Chart Watch points out, Bangerz' first-week sales didn't come close to those of albums released this year by Justin Timberlake , Drake , Kanye West or Daft Punk . However, it racked up the highest first-week sales total by a female pop singer since Pink 's The Truth About Love back in September of 2012. Yes, Miley's album sold more its first week out than Rihanna 's Apologetic, which came out in November.
In addition, Bangerz' #1 debut makes Miley only the third artist of 2013 to score both a #1 album and a #1 single on the Billboard Hot 100. The others are her partner-in-twerk Robin Thicke and Bruno Mars .
And finally, Miley is now the first female artist to score five #1 albums before the age of 21: she won't be old enough to drink until November 23. Still, she can't beat Justin Bieber for the overall record of most #1 albums at the youngest age: he managed to score five before he turned 19.
Looks like Lorde better hurry up -- she's turning 17 next month and hasn't even scored her first #1 album yet. What a slacker.
What will Miley do for an encore? How about a North American tour in the near future? According to E! News , she's "very close" to firming up a trek that will begin early next year, after some European dates.
This would be her first stint on the road since her Best of Both Worlds tour in 2007, in which she performed as both herself and as her Disney alter ego, Hannah Montana.
Copyright 2013 ABC News Radio