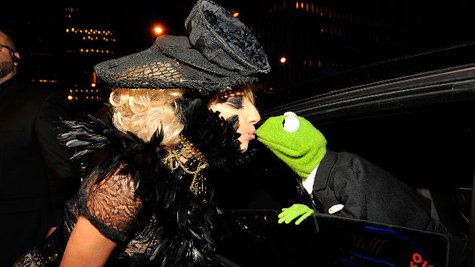 Two years ago, Lady Gaga starred in her own Thanksgiving special on ABC, which featured her duetting with Tony Bennett. This Thanksgiving, she'll be back on ABC in yet another special, and this time, she's duetting with Kermit the Frog.
Lady Gaga & The Muppets' Holiday Spectacular will air Thanksgiving Night, November 28, on ABC, and starring opposite Kermit and friends is the fulfillment of a lifelong dream for the star, who once wore a coat made out of stuffed Kermit dolls, and took him with her to the MTV Video Music Awards as her date.
"I was so excited when ABC called me about doing a holiday special this year," Gaga said in a statement. "I knew it just wouldn't be a complete night of laughter and memories without The Muppets! Can't wait to see the gang again, and I hope Miss Piggy 's still not mad about Kermit. We're just friends!"
Kermit, meanwhile, added, "We have a long history with Ms. Gaga, so we jumped at the chance to do a holiday special with her. We won't even mind if she mistakes some of the Muppets for pieces of her wardrobe -- again." The two will sing "Applause" together on the show.
In addition to Kermit, the special will also include Gaga singing duets with Elton John , actor Joseph Gordon-Levitt and RuPaul , and Kristen Bell will pop up in a sketch. Included in the show will be a sneak peek at the upcoming Disney film Muppets Most Wanted , which will include Gaga in a cameo. That movie arrives in theaters March 21.
Lady Gaga & The Muppets' Holiday Spectacular airs November 28 at 9:30 p.m. ET.
Copyright 2013 ABC News Radio