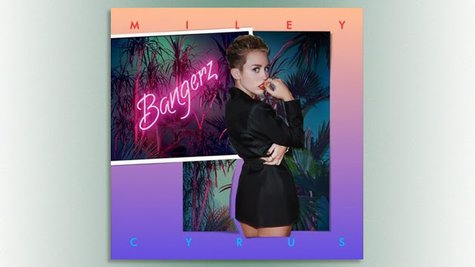 At this point, Miley Cyrus has done pretty much everything an artist can do to make the world aware that she's got a new album coming out, and her plan seems to have worked: her new disc Bangerz has entered the Billboard chart at #1 with first-week sales of 270,000 copies, according to Nielsen SoundScan.
If you count the albums she released as Hannah Montana, this is Miley's fifth #1 album overall. Her last studio album, Can't Be Tamed , peaked at #3 in 2010.
Elsewhere on the chart, the cast of Glee returns to the top 10 after a nearly two-year gap. The Quarterback , the soundtrack EP to the show's tribute to the late Cory Monteith, arrives at #7. This is the show's 14th top-10 album overall.
In at #9 is Frame by Fram e, the major label debut by Cassadee Pope , who won the third season of NBC's The Voice . Cassadee is now the only Voice winner to have scored a top-10 album. The debut disc from the very first winner of The Voice , Javier Colon , only reached #134 on the chart, and season two and season four winners Jermaine Paul and Danielle Bradbery haven't released their first albums yet.
Last week's #1 album, Justin Timberlake's The 20/20 Experience -- 2 of 2 , falls to #5.
Copyright 2013 ABC News Radio