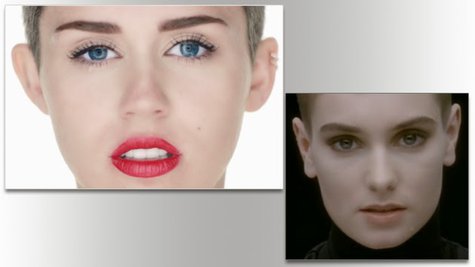 You have to hand it to Sinead O'Connor : she's persistent. She has published a fifth open letter to Miley Cyrus , again asking for an apology from the "Wrecking Ball" singer. Sinead remains upset that Miley mocked her and Amanda Bynes for their mental illnesses on Twitter during their much-publicized, back-and-forth exchange.
In the latest note, published on SineadOConnor.com , the Irish singer writes to Miley, "You're supposed to apologize for the mocking of any person who sought help, publicly or privately, to prevent themselves from committing suicide. You're also supposed to apologize for mocking people who are mistakenly or otherwise perceived to be mentally ill."
Sinead adds, "Because what you did is extraordinarily dangerous as it contributes to the silences which allow suicide to flourish and also contributes to the bullying of people perceived mistakenly or otherwise to be mentally ill. That bullying causes suicides."
The Miley-Sinead feud began with Sinead's open letter questioning the content of Miley's "Wrecking Ball" video and advising the former Disney star to not let the music business "prostitute" her.
Meanwhile, indie rocker Sufjan Stevens has issued his own letter to Miley, though it's much more light-hearted. Addressing her Bangerz track "#GETITRIGHT," which he calls a "great song," he writes, "One particular line causes concern: 'I been laying in this bed all night long.' Miley, technically speaking, you've been LYING, not LAYING, an irregular verb form that should only be used when there's an object, i.e. 'I been laying my tired booty on this bed all night long.'"
Copyright 2013 ABC News Radio