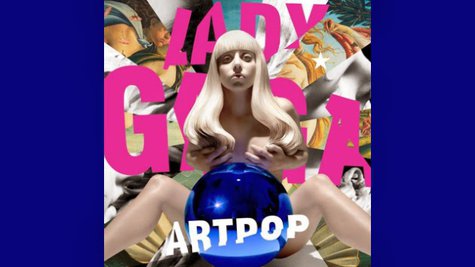 Lady Gaga continues to tease fans on her social media sites with tidbits regarding her new album, ARTPOP .
On Monday, she posted on Instagram a snapshot of one of the pages in the album's booklet. It contains the lyrics to "Applause," plus a photo of Gaga in which we see her naked from behind, including her rear end. That photo has apparently since been removed.
Gaga writes, "The booklet includes photos of the day Jeff [ Koons ] and I explored different poses for the sculpture. IT IS COMPLETELY AMAZING Been leafing through her allll day." Koons was her collaborator on the ARTPOP album artwork.
Gaga later posted handwritten lyrics to one of the ARTPOP tracks, "Dope." It reads, "My heart would break without you/Might not awake without you/Been hurtin' low/From living high/For so long/I'm sorry and I love you."
The Instagram photos come on the heels of a Twitter question-and-answer session Gaga held Sunday night. When a Little Monster asked her what the ARTPOP song "Mary Jane Holland" is about, Gaga replied in all caps, "CANNABIS."
Perhaps more importantly, Gaga suggested that she has a follow-up to ARTPOP already planned. She wrote to a fan that she has "lots of songs for ACT TWO!"
Last week, Gaga took to social media to release the ARTPOP track list and to announce the album's next single, "Venus." ARTPOP debuts November 11.
Copyright 2013 ABC News Radio