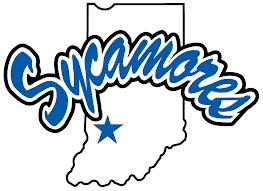 Youngstown State earned a 35-24 victory over Indiana State in front of 8,000 fans on Homecoming inside Memorial Stadium.
The Sycamores fell to 1-4, 0-1 MVFC while Youngstown State improved to 5-1, 2-0 MVFC.
The game was delayed for 10 minutes after halftime as a severe thunderstorm rolled through Vigo County during the break and then was delayed again for nearly an hour and a half with 3:02 left in the third quarter due to lighting around the stadium.
Junior quarterback Mike Perish went 30-of-56 passing for 392 yards and three touchdowns. Perish was just three completions, two pass attempts and four passing yards shy of all three single-game school records. Sampson Levingston caught two passes for 56 yards in the game but still became the first Sycamore to record three pass reception touchdowns since James Braden did it in 2001 against Missouri State. Levingston had a 27-yard reception in the second quarter, a 21-yard reception late in the fourth quarter and an 8-yard reception earlier in the final stanza came after a pair of laterals from Kyani Harris and Chris O'Leary.
Buck Logan led the Sycamore ground game with 64 yards on the ground while Harris had five pass receptions for 101 yards. Mark Sewall led the Sycamore defense with eight tackles, including two for losses and Connor Underwood added a quarterback sack.
Indiana State hits the road for each of its next two contests, beginning with the program's first-ever road trip to South Dakota on Saturday, October 12. Kick-off is slated to begin at 2:00 p.m. (ET).