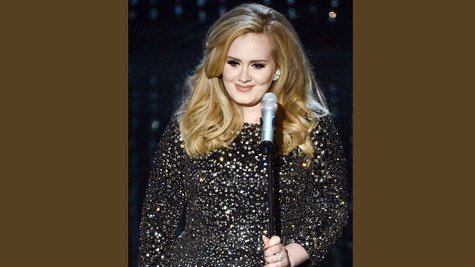 Adele is one of the world's most private celebrities, so it's lucky we've got OneRepublic frontman Ryan Tedder to tell us that she's actually in the studio recording a new album.
Ryan, who won a Grammy for the work he did on Adele's gazillion-selling smash 21, tells the Australian paper The Herald Sun that he's working on new material with the singer and that she "sounds even better than before."
While he says he's been sworn to secrecy as far as the details of the project, he tells the paper, "I love where she's at, she's still my favorite artist in the world. I would press 'pause' on my entire life if it meant I could go into the studio for a month straight with her."
Ryan is also working on Beyonce 's mysterious, super-secret new album, which still doesn't have an actual release date. Ryan, who co-wrote and produced Bey's hit "Halo," will only say that the new disc will be "mind-blowing."
The OneRepublic singer and hitmaking songwriter also has something to say about Miley Cyrus' recent chart success, and it's this: stop getting naked.
While acknowledging that "Wrecking Ball" is a huge hit, Ryan tells the paper that he's uncomfortable with the song's video, which features a nude Miley swinging on a wrecking ball and licking a sledgehammer.
"I don't want 12, 13, 14, 15, 16-year-old girls staring at Miley thinking, 'The biggest asset I have is my body, especially if it's naked, and the more naked I get the more successful I can get,'" he says. "I want teenagers to be motivated to work hard, learn to write songs, practice your instruments."
In other words, Ryan says, "Become a phenomenal talent like Adele or Beyonce. Don't just take your damn clothes off.''
Copyright 2013 ABC News Radio