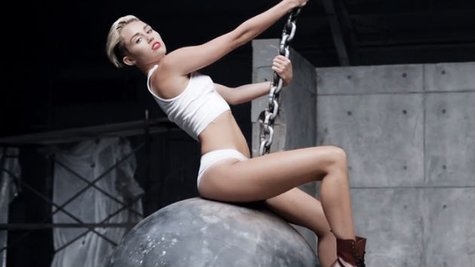 If you feel you just haven't seen enough of Miley Cyrus' naked bod, well, we've got good news for you: she's baring even more in a set of NSFW photos posted online by Terry Richardson , the noted photographer who directed her video for "Wrecking Ball."
In one of the pictures, Miley is seen topless, cupping her breasts, and wearing lace pantyhose with no underwear , through which you can clearly see that she's a fan of waxing. In another photo, she's exposing her left breast in a see-through top. In yet another, she's wearing a hot pink one-piece bodysuit with a boat neck, and is gathering and pulling up the lower part so it exposes pretty much her entire bikini area, except for a thin strip that's just covering her genitals.
Other photos shows Miley wearing the same bodysuit and holding an empty can of soda over her crotch in one; shot from the rear in another so her nearly naked booty is clearly visible ; and touching herself suggestively in still another.
If that's too much for you, scroll down a bit and you can see Miley in an older photo, smoking what appears to be a joint and a blunt simultaneously.
Perhaps Sinead O'Connor was correct when she told Miley in an open letter this week, "The message you keep sending is that it's somehow cool to be prostituted.. it's so not cool Miley.. it's dangerous."
Copyright 2013 ABC News Radio