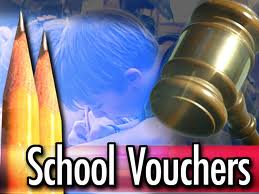 The number of Indiana students applying to receive education vouchers has reached over 20,000.
The voucher allows students to take tax money from their public school and use it to pay a private school for their education.
The Indiana Department of Education program has grown from 3,919 when it first started in 2011, to 9,324 last year. Voucher opponents say vouchers hurt public schools by draining state funds from them. The number of students making the voucher mover to private schools is likely to slow simply because many private schools are nearing capacity.
A 2010 study indicated that there were about 22,000 vacant seats available in private schools in Indiana.