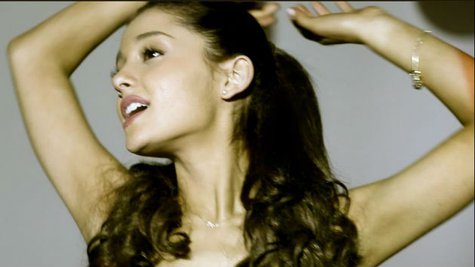 Ariana Grande finally hit 10 million Twitter followers this week, and she thanked her fans for helping her reach that milestone by releasing a version of a song that they'd hoped would be on her debut album, but which didn't make the cut.
The song is called "Pink Champagne," and though Ariana had performed it live, and at one point had mentioned that it would be on her album Yours Truly, it never made the finished project, just like a number of the songs she'd recorded during the three years it took her to put the record together.
In her video introduction to "Pink Champagne," Ariana says, "I cannot believe that I have 10 million followers on Twitter. That's the craziest thing in the world...thank you for being here for me at all times, I can't thank you enough for all you do. I'm always so blown away."
"As a thank you, I wanted to give you guys this song," she continues. "And it's a 'fetus song' -- I recorded it when I was about 17. This is...rough, rough, rough, rough, rough and it's really ancient but...I know that you guys were super-disappointed that it didn't make it to the first album. And though I wouldn't change anything about my first album, I did wanna make sure that you guys were satisfied."
Ariana is also celebrating the fact that her video for "The way" is now VEVO-certified, having been viewed 100 million times. "A hundred million people damn how exciting thanks so much again!" she tweeted .
Copyright 2013 ABC News Radio