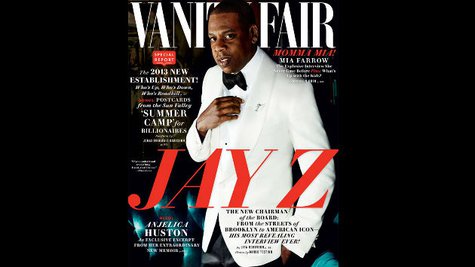 Jay-Z not only dons a black-and-white tuxedo on the cover of the November issue of Vanity Fair , but the usually reserved rapper has also opens up to discuss his family life with his wife, Beyonce , and their daughter, Blue Ivy , in what's being billed as his most-telling interview ever.
Beginning with his relationship, the Brooklyn rapper finally answers a question that many fans have long pondered: Would Jay have been able to woo Beyoncé if he wasn't Jay-Z?
"If I'm as cool as I am, yes," the rap mogul says. "But she's a charming Southern girl, you know, she's not impressed. … But I would have definitely had to be this cool." He also adds that Beyonce is no longer a good girl, instead she's "gangsta now."
As for those pesky rumors that Beyonce was never really pregnant and used a surrogate, Jay says, "I don't even know how to answer that. It's just so stupid. You know, I felt dismissive about it, but you've got to feel for her."
He adds, "I mean, we've got a really charmed life, so how can we complain? But when you think about it, we're still human beings.... And even in hip-hop, all the blogs -- they had a field day with it. I'm like, 'We come from you guys, we represent you guys. Why are you perpetuating this? Why are you adding fuel to this ridiculous rumor?'"
The rapper then reveals what it's like raising the couple's only child. "She plays a song and she goes, 'More, Daddy, more...Daddy song.' She's my biggest fan," Jay says of Blue. "If no one bought the Magna Carta [album], the fact that she loves it so much, it gives me the greatest joy. And that's not like a cliché. I'm really serious. Just to see her -- 'Daddy song, more, Daddy.' She's genuine, she's honest, because she doesn't know it makes me happy. She just wants to hear it."
The issue will hit newsstands nationally on October 8.
Copyright 2013 ABC News Radio