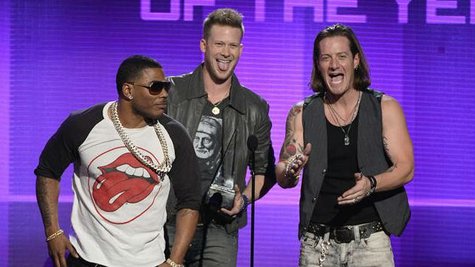 You might think that the song of the year was "Blurred Lines," but according to the American Music Awards, the official Single of the Year of 2013 was "Cruise," by Florida Georgia Line featuring Nelly . The Country Music Association Awards agreed, naming the tune its Single of the Year as well. But while it looks like an odd matchup on paper -- a country duo and a rapper joining forces -- Nelly says the song's success hasn't really been that surprising to him.
"To have it take off the way that it did is a great thing but, you know, it's not my first time dabbing in country music," he tells ABC News Radio. You may remember that the rapper scored a massive hit in 2004 with "Over and Over," a collaboration with country music superstar Tim McGraw. He's also joined Taylor Swift twice on stage for duets.
"I have a fond respect for country music. I understand the creativity, and the heart, and the story and the meaning behind it," he tells ABC News Radio, noting that growing up in St. Louis, he heard plenty of country tunes. "Country music has a great fan base down there and my father had a respect for country music as well, you know, he was a big Gambler fan," laughs Nelly. "He loved Kenny Rogers , so we had it playing around in the house."
But Nelly says he's still thrilled that "Cruise" has won so many accolades. "Anytime you're recognized for something that you find creatively to be something that a lot of people wouldn't even attempt, [much less] have a chance to pull off and make successful...to be recognized [for that] is a beautiful thing," he tells ABC News Radio.
When Nelly got the opportunity to jump on "Cruise," it had already been a smash on the country chart. He says when the guys from Florida Georgia Line reached out to him, he was mainly concerned that his participation wouldn't make the record worse.
"Their version of it, it topped country radio charts, so when you're coming into a scenario where you're remixing a song you don't want to be the reason that it doesn't succeed," Nelly explains. "So, when I was approached, it was like, 'Yo, tell me what you think and tell me what you feel you can do to the song.' And I said, 'Okay, let me sit with it for a few days. Let me kick around some ideas.' And I sent back my ideas and they loved it."
So, apparently, did everyone else. Nelly's remix of the tune reached #4 on the pop charts, and sold more than 1.6 million copies.
Copyright 2013 ABC News Radio