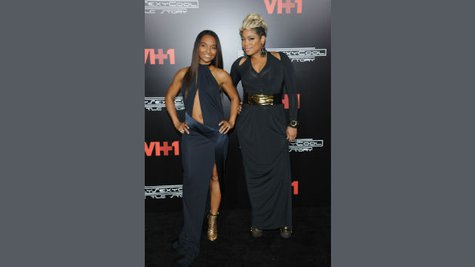 On Monday night's finale of Dancing with the Stars , the four remaining contestants -- Glee star Amber Riley ; Jack Osbourne , son of Ozzy and Sharon ; High School Musical star Corbin Bleu ; and comedian Bill Engvall -- will do a "samba relay" with their pro partners as TLC performs their classic "No Scrubs." And the iconic girl group says they're not just appearing on the long-running ABC reality series because it's a promotional thing: they truly are fans of the show.
"My mom watches it all the time, so I was forced to and then I liked it. I was like 'Oh, okay,' Now I like it," T-Boz tells ABC News Radio. Both T-Boz and her band mate Chilli agree, "It's really good."
So what can fans expect from the performance on Monday night? "A little bit of dancing, some singing, y'know, what we always do," laughs Chilli, while T-Boz says we can also expect "energy."
Despite their love for the show, T-Boz says that she's not sure she'd ever compete on it. In fact, she has been asked to do it in the past but passed due to a medical issue.
"A long time ago, somebody said something about it to me but my knee was bad," she reveals. "You know, I'm a tomboy...[and] it's real girly stuff, you know. It might be a little, uh, challenging ." When it's suggested that the singer could perhaps do some tomboy-style dances, she laughs, "Well, you know, that would be my special night. I might get a ten!"
Tune into ABC's Dancing with the Stars Monday night at 8 p.m. to see the ladies hit the ballroom.
Copyright 2013 ABC News Radio