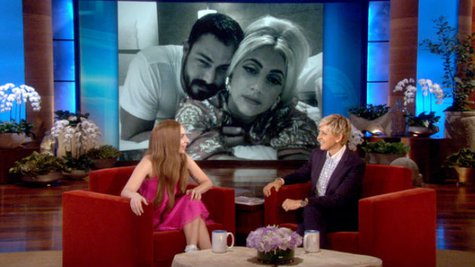 Lady Gaga 's been dating actor Taylor Kinney since 2011, and while on the surface, the two seem very different, Gaga tells Ellen DeGeneres that deep down, he's just as weird as she is.
On Monday's edition of The Ellen DeGeneres Show , Gaga says of Kinney, the star of NBC's Chicago Fire, "He's a hidden weirdo. He is extremely strange, actually, and we compliment each other's weirdness."
"That's actually one of the first things he ever said to me," she explains. "It's a Dr. Seuss quote, that you find in someone else a compatible weirdness." She goes on to say that when the two are together, they do normal things like "eat pizza and watch TV," and, she adds, "I play him my next single and ask him if he likes it." "That's just our normal life," she tells Ellen. "At the end of the day, he's my best friend, and having your lover be your best friend is...I mean, it's the best thing ever!"
But the conversation also takes a serious turn when Gaga talks about how her friend Elton John worries about her because she's struggled with both drugs and alcohol; she explains that she used them to retreat from friends and family because of the pressures of fame. Speaking about one of her new songs, called "Dope," Gaga describes it as, "essentially an 'I'm sorry' to my fans, to my parents, to my lover, and I'm saying I'm sorry that I withdrew so much."
"I guess that's kind of a really personal thing for me to talk about but here we are," Gaga tells Ellen, adding that when she first became famous, she felt "very misunderstood," and had "a need to withdraw from people around me and from the world." Why did she feel misunderstood? Because, she says, nobody seemed to understand that all her nutty outfits and bizarre performances are expressions of her real personality, and not some marketing scheme to grab headlines or sell albums.
"I don't dress any particular way to impress anyone or market myself for my music; it's actually who I am and whether that makes me crazy or insane, I don't know, but it's my truth," Gaga explained to Ellen. "So I'd rather just be open about my own insanity than allow anyone to think that I'm, like, in a room somewhere generating what next thing I'm gonna shock you with. That's not what I do."
What she does do, Gaga says, is "make records that I hope will touch one fan's life, that one person [who] feels this same sort of insanity that I feel."
You can watch the full interview today on The Ellen DeGeneres Show ; check your local listings.
Copyright 2013 ABC News Radio
video platform video management video solutions video player video platform video management video solutions video player