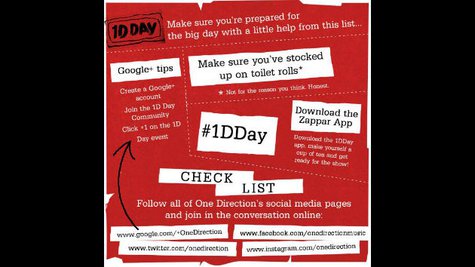 One Direction 's new album Midnight Memories comes out on Monday. Assuming you haven't already listened to the leaked version online, you can get hyped for the release today by participating in " 1D Day ," a worldwide online event that brings the boys and their fans together.
The seven-hour live stream event is taking place in 61 countries, and it starts at 2 p.m. ET Saturday in the U.S. The boys will be stationed in L.A. during the event, which you can access on YouTube and Google+ . It's described as " an exciting opportunity for everyone everywhere to take part in a unique global event, providing an exclusive insight into the lives of One Direction -- and the people around them." But what's really going to happen during those seven hours? Well, here's a roundup, a ccording to MTV :
-- Liam, Louis, Harry, Niall and Zayn will crash 1D Google hangout parties worldwide in a feature called #OneBigDropIn, and you can chat with them directly
--The winners of the challenges the group has assigned to its fans will be revealed -- over the past few weeks, fans have been asked to create their own 1D music videos, theme songs, products and more.
--Guest stars will be stopping by, including Celine Dion , Simon Cowell , Kelly Rowland , the Muppets , Khloe Kardashian and others.
--The guys will attempt to break one word record every hour, but for silly things, like how many rolls of toilet paper you can stack up.
The show's producer told MTV, "It's a really fun-packed day from everything from wrestlers to choirs to a house band to playing the new album....And it's almost like the most amazing webcam broadcast you could ever imagine."
Copyright 2013 ABC News Radio