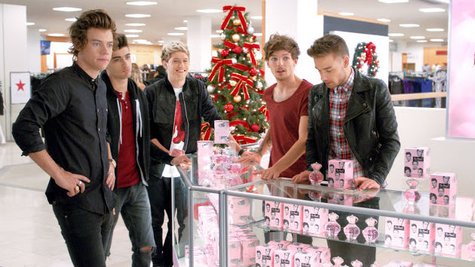 In the time-honored tradition of, er, Justin Bieber , One Direction is starring in their very own comical ad for Macy's Black Friday extravaganza, which doubles as a promotion for their new perfume.
In the ad , which will start airing on TV November 24, the boys are seen setting up a display of the fragrance, Our Moment, as "Harold," the store manager, comes by to check up on them. At first, their conversation is normal, but then Harold gets all stalkery, changing his hairstyle to match those of Harry , Liam , Zayn , Louis and Niall , and then talking in a bad British accent. "I thought maybe you could use one more bloke in your band," he says. "Back away," Liam advises the rest of the group.
The commercial promotes the fact that Macy's will open starting 8 p.m. on Thanksgiving night so people can start their holiday shopping. On November 28 and November 29, customers who buy the boys' Our Moment fragrance spray will get an exclusive black tote bag, and Macy's will donate $2 from each Our Moment purchase to the Make-a-Wish Foundation.
In addition, Macy's flagship New York City store will also feature a 1D pop-up shop, and Macy's YouTube channel and Instagram account will offer fans exclusive behind-the-scenes video captured during the filming of the ad.
Copyright 2013 ABC News Radio