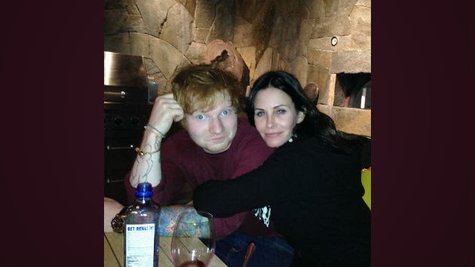 Of all the famous guys featured in People magazine's Sexiest Men issue, on stands Friday, perhaps Ed Sheeran is the most unlikely -- and he'll be the first to tell you that. He calls the whole thing "utterly ridiculous."
"It's quite funny. Utterly ridiculous! I don't know who the voting party are for People, but thank you. It's very kind," he says in the magazine . "But I'm sure I'm the only person on this list who has a belly." The self-deprecating singer adds, "Though, I guess Austin Powers was considered a sex symbol, and we share similar physical-appearance qualities." Actually, Ed looks rather cute in the issue, posing with his leather jacket pulled up around his head, and sporting a skull t-shirt.
"I haven't been allowed to tell anyone about being in this issue, but as soon as it's out, I'm going to use it as a chat-up line," laughs Ed.
In reality, though, the British singer doesn't seem to have any problems getting close to gorgeous women. He's friendly with Taylor Swift and Ellie Goulding , and unexpectedly, he recently revealed on Instagram that he's good buddies with, of all people, Courteney Cox , of Friends and Cougar Town fame.
Posting a photo of Cox hugging him while seated on what looks like a patio with a barbecue grill, Ed wrote, " My friend Courteney is nominated for a People Choice Award for favorite cable TV actress. She's never won one before and she lets me live in her beach house, so how's about we all vote for her and win her the damn thang eh?" He then provided a link for fans to vote.
A grateful Courteney replied to Ed, "You sweet thing!"
Copyright 2013 ABC News Radio