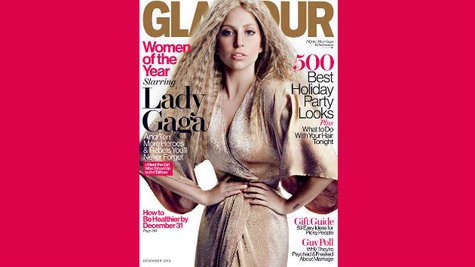 L ady Gaga looks drop-dead gorgeous on the cover of Glamour magazine, but at the publication's annual Women of the Year Awards, the singer said she really didn't deserve to be on the cover at all.
"Who really belongs on the cover is not me. If I could forfeit my Glamour cover, I would give it to Malala," she said, referring to Malala Yousafzai, the 16-year-old Pakistani activist who survived an assassination attempt by the Taliban last year. Both Gaga and Malala were among Glamour's honorees Monday night in New York City.
The singer went on to say that she felt she was made to look too artificial on the magazine's cover. "The picture -- which I'm very grateful for and very happy to be on this cover -- I felt it was too beautiful. I felt my skin looked too perfect, and my hair looked too soft. This is not usually how I dress or how I carry myself," she told the crowd.
She went on to say that she feels her "true talent is not the clothes, and not the music," adding, "I really feel that what I am best at is seeing the potential in other people...Acceptance. Tolerance. Bravery. Compassion. These are all the things my mom taught me growing up. And so the truth is that I'm really just a pop star in disguise."
Copyright 2013 ABC News Radio