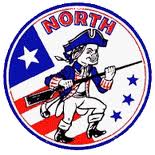 Several Wabash Valley Football teams will look to continue their State Tournament run this evening. In The Class 5A Sectional 16 Final, TH North winners of 6 in a row will host Evansville North at 7:30pm.
Over in Class 1A, Attica will face Fountain Central in the Sectional 47 Championship game while the Sectional 48 title tilt has Linton taking on Perry Central.
Over in Illinois this Saturday, In Class 1A the 10-0 Casey-Westfield Warriors will host Carrollton at 2pm EST and in Class 3A, Robinson will travel to face Greenville at 1pm EST.