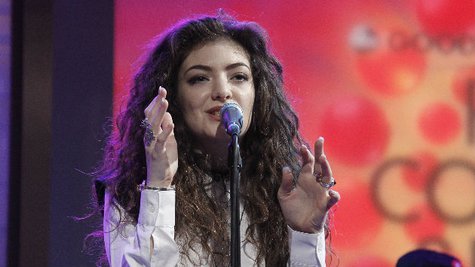 No one will ever again be able to say, "I can't believe she's only 16!" when talking about Lorde . That's because the singer, born Ella Yelich-O'Connor , celebrates her 17th birthday today.
It certainly is a happy birthday for the young star: her smash hit "Royals" has just passed its sixth week at #1 on the Billboard Hot 100. She's the first solo artist from New Zealand to score a #1 single in the U.S. Previously, "Royals' was the longest-running #1 hit in history by a female artist on the Alternative Songs chart.
While most people know that "Royals" was written in response to all the pop songs that brag about luxury items like cars and jewels, you may not be aware of its secret origins in a sport that isn't even played in New Zealand: baseball. The title of the song actually came from a photo that Lorde saw of a Kansas City Royals baseball player; he was wearing his jersey, which said "Royals" on it.
"The way I write is that I find a particular word or phrase which kind of defines the concept that I'm thinking about, and when I find that word, everything sort of clicks," she explains to ABC News Radio. "And so I just cut that picture out of a National Geographic 'cause I thought it looked cool, and I thought, 'Yeah, that's a great word, I've got to incorporate that somewhere," and it just kinda tied in with what I was thinking about."

Meanwhile, Lorde continues to collect celebrity fans. Legendary diva Cher tweeted on Wednesday, "I'm very intrigued my Lorde ! So unique! Isn't it great to discover a New Young Amazing Artist!" A thrilled Lorde reweeted Cher's comments, and added , "LUV U CHER."
Copyright 2013 ABC News Radio