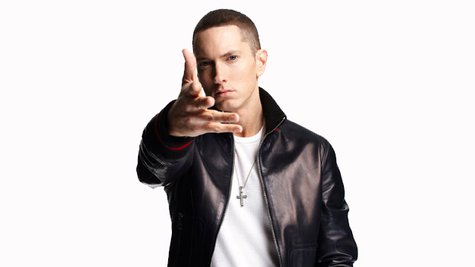 Eminem and Rihanna have collaborated on a several songs that have become hit records, including "Love The Way You Lie" off Em's Recovery , back in 2010. Now, during an interview with MTV News , Slim Shady explains why he enlisted Rih Rih once more for his newly released effort, The Marshall Mathers LP 2 .
While recording "The Monster," Em revealed "as soon as I got the beat I just heard her on it." Shady adds, "I wanted to make sure that I had it finished first to be able to present to her, but once I had the rhymes done, I sent it to her." And even though the record was "pulled together last minute," Eminem feels that she "smashed it."
The rapper also mentioned that Rihanna fit the mood and vibe of the song. "The perception of the record, what it's saying, I thought it would be a good idea to have her on it because I think people look at us like we're both a little nuts," he says before adding that there will be a visual accompanying the track, which marks their forth collaboration following "Love The Way You Lie (Part II)" off Rihanna's Loud , back in 2010, and "Numb" lifted from the singer's most recent offering, Unapologetic .
The Marshall Mathers LP 2 is available in stores now.

Copyright 2013 ABC News Radio
Get More: Eminem , Music News