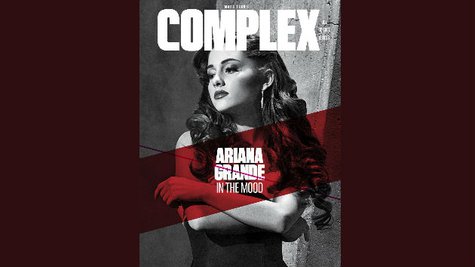 Ariana Grande is the cover girl on the new issue of Complex magazine, and "complex" describes the interview inside. While she does touch on her music and her relationship with Nathan Sykes , she spends an awful lot of time talking about food, Halloween and her run-ins with demons and ghosts.
"We'd be so stupid to believe we are the only people here," Ariana tells the magazine, confirming that she believes in aliens and ghosts. She then reveals that in Kansas City, she visited a place called Stull Cemetery , which is, she says, "known as one of the seven gates of hell on Earth," and notes that it's so evil, "The Pope won't fly over it." While there, she says she and her group smelled sulfur -- "the sign of a demon," she says -- and also saw a fly in their car -- "another sign of a demon."
Before she got out of there, Ariana says, she took a picture, and "there are three super distinct faces in the picture—they're faces of textbook demons."
When the reporter asks to see this photo, Ariana says, "I deleted it. The next day I tried to send the picture to my manager and it said, 'This file can't be sent, it's 666 megabytes.' I'm not kidding....then weird things started happening to me so I deleted it."
As for the weird things, Ariana then goes on to tell a story about how she heard whispers and saw "disturbing images" in her bedroom, and then saw what she describes as "massive black matter...a cloud of something black right next to me." When she woke up, Ariana says, it was gone, but the next night, she says her friend stayed with her and saw the same thing.
Now, while you're dialing your local exorcist, here's some more of what Ariana told Complex magazine:
On Miley Cyrus: "Miley looks like she is having the time of her life, and I think anybody who's giving her a hard time is wishing deep down they were having as much fun as she is right now. People are being so cruel. I think that's bullying, and she should do whatever the hell she wants."
On Justin Bieber: "[We're] not very [close], but he's a friend. We never talk or see each other, but he's really nice and whenever we are in the same building he's friendly and we play music for each other. [He's not flirty], he's super respectful of my situation."
On her acting career: "I never liked acting. I auditioned for TV to get a platform to get a record deal and then I fell in love with acting because it was fun. After I'm done playing Cat Valentine I don't see myself doing much acting, but I would do a scary movie or a musical, at any moment."
You can read the whole interview over at Complex.com .
Copyright 2013 ABC News Radio