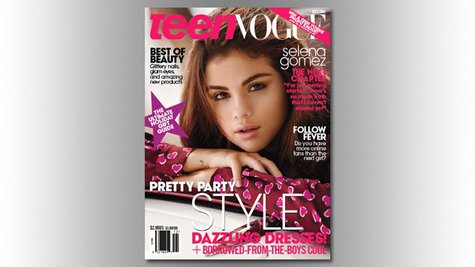 Selena Gomez's current image is a bit sexier than it was a few years ago, but that doesn't mean that she's relaxed her morals. In the new issue of Teen Vogue , Selena says that while she may have the desire to break the rules, that's just not her.
"Part of you wants to have that rebellious feeling where you're just like, forget it -- I can do anything I want. I've tried it, and I've never been that girl," she tells the magazine, speaking about how she feels after a romantic breakup. "I'm always going to be the girl you want to take home to your parents, not for the night."
Selena also discusses her special bond with her BFF Taylor Swift in her cover story for Teen Vogue, noting that her friend, who's a few years older than she, is way more mature. "The difference between Taylor and me is she was sixteen with the confidence of a 25-year-old," says the 21-year-old Selena. "Actually, I should say 80-year-old, because she's such an old soul. I was not that way. I was very sheltered until about eighteen or nineteen. I still live at home, and I'm 21!"
"She does inspire me like crazy, but I wouldn't change my path, because it allowed me to figure out all that stuff and do it on my own," adds Selena.
The singer also shares her big weakness with the magazine. No, it's not Justin Bieber: it's bad food.
"I eat junk. I'm from the South, so I love Mexican food, greasy pasta, and fried things," Selena admits. "I do try, every now and then, to put something in my body that will be good, but, honestly, I've never liked working out. I need to be active in some way, though -- that's why I kind of secretly do it for my show. We have thirteen choreographed pieces, and it's a 90-minute set. I consider that my workout!"
You can read the entire interview with Selena when the new issue of Teen Vogue hits stands November 19.
Copyright 2013 ABC News Radio