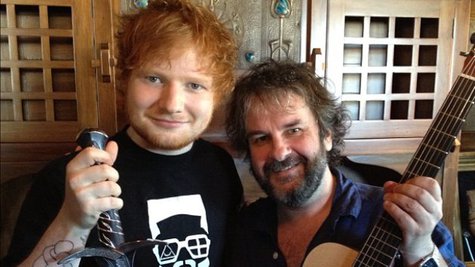 Earlier this year, Ed Sheeran posted an Instagram photo of himself posting with Lord of the Rings and Hobbit director Peter Jackson , a moment that he called "the coolest day of my career." Well, now we know what the result of that meeting likely was: Ed has contributed a new song called "I See Fire" to the soundtrack of Jackson's new film The Hobbit: The Desolation of Smaug .
"It was such an honor working with Peter Jackson on this song," Ed says in a statement. "Not only is he one of my favorite directors of my favorite films, The Hobbit was the first book I ever read as a child, so it means a lot that I get to produce music for the motion picture."
Ed adds, "I was allowed complete freedom to create what I thought was fitting for the film, which is very rare....The entire team down in New Zealand was out of this world. The film is amazing, I'm still geeking out that I've done a song for a Peter Jackson film set in Middle Earth!"
On Twitter, Ed expanded on the experience. "I got the chance to produce and play all the instruments on it apart from the cello. Managed to learn violin for a day, hope you all dig it," he wrote. "Big up Peter Jackson and his team for giving me the opportunity. It's also the first solo song I've released in over 2 years, it's not on the new album though, that fun starts next year."
Jackson feels the same way about Ed, saying in a statement, "[He's] is a true Tolkien fan, and also happens to be a brilliant singer-songwriter. 'I See Fire' is Ed's emotional response to the film. It's perfect."
The song is now live on iTunes. It's also featured on the movie's soundtrack album, which hits stores December 10.
Copyright 2013 ABC News Radio