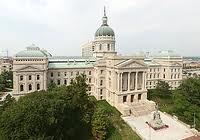 A recent study shows that about a fifth of sitting Indiana lawmakers have taken office without ever actually campaigning for office.
Twenty-eight of the state's 150 sitting lawmakers were sent to the Statehouse by a political caucus held after a seat became vacant through resignation or death.
Some critics charge the system is rigged toward those in the know about upcoming vacancies.
Still those that are place in office by caucus will have to run for re-election when the term is up.