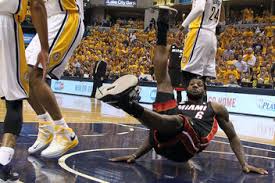 Three NBA players have been fined for violating the league's anti-flopping rules.
LeBron James of the Miami Heat along with Lance Stephenson and David West of the Indiana Pacers have been fined $5,000 each.
The three players each broke the flopping policy in Tuesday night's Game 4 of the Eastern Conference Finals.
For a good look at a double-flop from James and Stephenson click the link below...