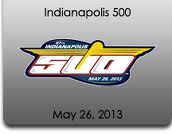 You may have listened to this year's Indy 500 here on WIBQ or you may have watched it on TV.
If you watched on TV, you were almost alone.
ABC-TV's telecast of the Indianapolis 500 on Sunday earned a 3.7 rating nationwide, one of the race's worst ratings performances in recent history.
That t works out to 5.7 million viewers according to Nielsen.
Only the race in 2010 was worse in all the years the race has been on TV.