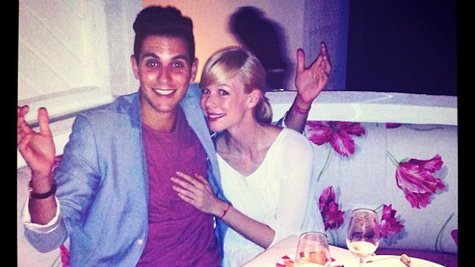 Over New Year's Eve, Cobra Starship frontman Gabe Saporta proposed to his girlfriend, designer Erin Fetherston , in Barbados. The two returned to the scene of their engagement over the weekend to make things permanent: People reports the couple tied the knot on the island on Sunday.
According to People , Fetherston wore a gown of her own design as she and Gabe wed at the St. Nicholas Abbey plantation on Barbados. Didn't get an invitation? E! Online reports that the nuptials will be featured in an upcoming issue of Martha Stewart Weddings magazine.
While neither Gabe nor Erin have directly commented on their marriage on Twitter, Gabe posted a photo of a beautiful sunset in Barbados, while Erin tweeted a photo of a monkey to Gabe, saying, "I finally saw a real monkey in Barbados." She was referring to the fact that when they got engaged, Gabe lured her outside their cottage to see a "monkey," but in reality, he'd spelled out "Will you marry me?" in coral and flowers on their patio.
Copyright 2013 ABC News Radio