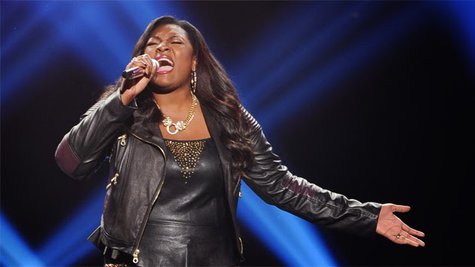 Newly-minted American Idol champ Candice Glover is on her victory tour, making various high-profile appearances in the weeks before the tour kicks off at the end of June. This Sunday, she'll have the honor of singing the national anthem at the 2013 National Memorial Day Concert , which airs live on PBS from the West Lawn of the U.S. Capitol starting at 8 p.m. ET. But singing "The Star-Spangled Banner" is old hat for Candice -- she says she's had plenty of experience doing it back home in South Carolina.
"There's a Marine base out there called Parris Island," Candice tells ABC News Radio. "And I would sing every Thursday for the parents and the families that would come and see their kids graduate that Friday. Every Thursday night, I would be at a restaurant, singing the national anthem for those families, and there were a lot of veterans and stuff out there that really appreciate it. So I'm glad I had the chance to do that."
Which means she'll be well-prepared when she steps on stage Sunday night in D.C. to perform the song backed by the National Symphony Orchestra. Candice says she's been in our capital once before, but doesn't remember the trip too well, so she's happy to be going back, "especially the fact that I'm performing, too."
In addition to airing on PBS, the concert will also be beamed via the American Forces Network to nearly a million servicemen and women at bases in 175 countries, as well as on 140 U.S. Navy ships at sea, plus Department of Defense civilians and their families stationed overseas.
"I'm glad that I get a chance to do this for all these different people in the military, and I'm excited about it. I'm a little bit nervous, but I'm excited," Candice tells ABC News Radio. She's also pretty impressed with the other people on the bill, including actors Gary Sinise , Joe Mantegna and Ed Harris , as well as General Colin L. Powell . It's almost as impressive as singing with Aretha Franklin on American Idol .
"I got a chance to sing with some big names this year," laughs Candice, "but I'm definitely honored and blessed to be in the company of all these good people. Colin Powell, like, that's pretty...that's a big deal!"
In addition to appearing at events like this, Candice is also rushing to complete her debut album, Music Speaks, which is out in July. In fact, she recorded her second single on Thursday night, and she says it's more "soulful" and "R&B" than her coronation song, "I Am Beautiful," which was more pop. So which direction is she going for the entire album?
"I think, if I had to say how my album would sound between these two songs...I think it would be more on the side of the second one," Candice predicts. "I think the first song, despite the feel of it, I chose that to be the first single because of the words, and I get messages about how people connect with it, and that was my goal. But I think as far as the vibe of my album, I think it will sound more like the second song."
Copyright 2013 ABC News Radio