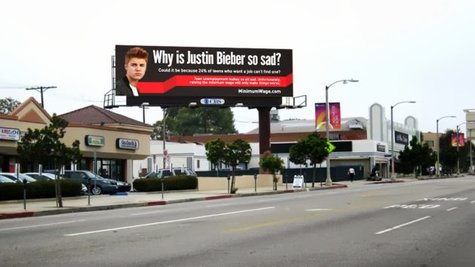 Justin Bieber was no doubt unhappy after he was booed at the Billboard Music Awards. But now, a picture of him looking unhappy has appeared ON a billboard.
A research agency called the Employment Policies Institute purchased a photo of the Bieb scowling, and used it to illustrate a billboard in Central Los Angeles . "Why is Justin Bieber so sad?" asks the billboard. "Could it be because 24% of teens who want a job can't find one?"
The billboard goes on to say, "Teen unemployment makes us all sad. Unfortunately, raising the minimum wage will only make things worse."
A spokesperson for the Employment Policies Institute tells ABC News Radio that the fact that Justin is on the billboard "does not imply his endorsement of any particular minimum wage policy or an endorsement of" the agency.
The EPI is a non-profit research agency that studies public policy and employment growth. The point of the billboard is to suggest that if businesses have to pay a higher minimum wage, then they can't afford to hire as many employees, and therefore, the unemployment rate among young people goes up.
A statement on the agency's website says , "Nineteen-year old Bieber might have a lucrative career, but 24 percent of his 16-19 year-old peers are unable to even land a job. Bieber's biggest fans are suffering through a teen employment crisis, with an unemployment rate that has been over 20 percent for more than four years."
Copyright 2013 ABC News Radio