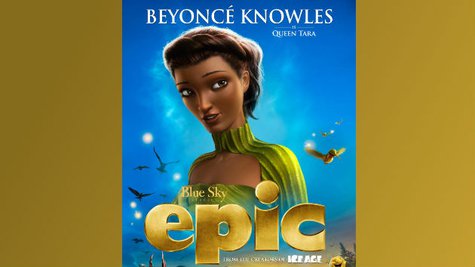 Beyonce 's made several movies in her career, but starting Friday, you'll be able to see her on the big screen as you've never seen her before: as a cartoon character.
Beyonce provides the voice of the character Queen Tara in the new 3D animated film Epic. The fantasy adventure is about a girl who shrinks to a tiny size and discovers a magical forest world of strange creatures, all engaged in a battle of good versus evil. As Queen, Beyonce's Tara is the protector of the forest, and she must choose an heir to carry on her mission.
While Queen Tara doesn't look exactly like Beyonce, she does share some of her mannerisms, and the singer says that's no accident.
"The animators based much of their work on footage of us recording our lines. So my facial expressions and body language have become a part of Tara," she explains. "It's been strange and exciting to see the process, to see Tara come to life. The first time I heard my voice and saw Tara, it was surreal."
She adds, "It's been something I've always wanted to be a part of so I'm really excited, and the detail in the animation is incredible."
One thing that the singer found challenging, though, was recording the lines for her character alone in a booth, rather than acting on set with the rest of the cast. "Voicing an animated character is very different from working with a live actor because you don't have anyone to play off of," she points out. "But it's really liberating, I was able to adjust and use my imagination. I felt like a kid."
Beyonce's not the only chart-topping singer who contributes a voice to Epic -- Steven Tyler voices a character, as does Pitbull . The rest of the cast is rounded out by Amanda Seyfried , Jason Sudeikis , Josh Hutcherson and Colin Farrell .
"This is the one time where the film lives up to its title," Bey says of Epic . "It's about a massive battle between good and evil, set against a huge landscape that you've never seen before on film. Everything in this movie is big: the action, the stakes, the characters... but at the same time they're all very relatable."
Let's hope Blue Ivy loves the movie as much as her mommy does.
Copyright 2013 ABC News Radio