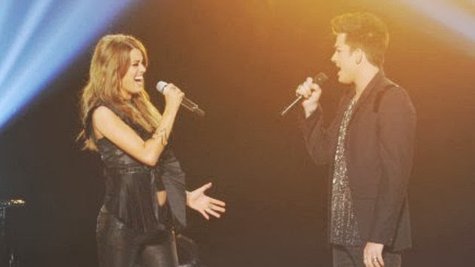 American Idol loves to bring back its former contestants to perform on the show, but now, there's a possibility that the Fox show will bring back its alumni and sit them behind the judges' table.
New York magazine's Vulture column quotes people with "knowledge of the situation" as saying that serious consideration is being given to including former Idol contestants among the judges, or perhaps having an entire panel of former contestants. The sources claim that Jennifer Hudson and Kelly Clarkson have already been approached, while Clay Aiken 's and Adam Lambert 's names are also being mentioned.
One person who thinks bringing back former contestants as judges is a great idea is third place finisher Angie Miller . She tells ABC News Radio, "I've actually thought of that. People ask, 'Who'd you like to see as a judge?' and I always say, 'Someone who's been on American Idol ,' and in the back of my mind, I'm like, 'Adam Lambert! Adam Lambert!'"
As you'll recall, Angie performed with Adam on the finale, and she says the experience was a highlight. "He's great. I loved singing with him and we just, like, clicked when we met. He's awesome," she tells ABC News Radio. In fact, Adam's has already served as a mentor for Angie's post -Idol career.
"He's helped me out so much, even with the business side of things...just telling me what he did," Angie tells ABC News Radio. "He's definitely helped me and I have a feeling we're gonna work together in the future."
Of course, reports about contestant judges haven't been confirmed by Fox, but there's plenty of time for the network to decide what it wants to do to boost the show's sagging ratings. As Vulture points out, this season's judging panel of Mariah Carey , Nicki Minaj , Keith Urban and Randy Jackson wasn't officially announced until mid-September of last year.
Copyright 2013 ABC News Radio