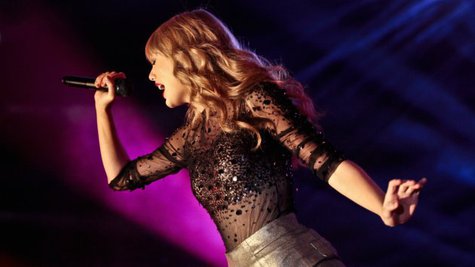 Taylor Swift been on quite a ride over the past 12 months, thanks to the release of her best-selling album Red , her sold-out tour, a string of hit singles, countless TV appearances, awards, new endorsement deals and even a guest appearance on Fox's New Girl . But she says there's one thing that, for her, really stands out as a highlight: her fans' stamp of approval.
Speaking to Billboard ahead of her appearance at this year's Billboard Music Awards, Taylor says, "For me, the highlight of this year was that fans went out and bought more than a million copies of Red in its first week of release. That was such an unbelievable feeling, knowing that many people wanted to hear about the last two years of my life."
Noting that when she releases a record, she's revealing her "highest and lowest points," Taylor says that sharing all that with the public makes her feel quite "vulnerable," so she was thrilled that the response was so positive. "Having it be so celebrated by my fans was almost an indescribable feeling of joy and relief and 'Oh, good, they understand me,'" explains Taylor.
The singer also tells Billboard that one of her favorite viral videos of the past year was the "goat" version of her own hit "I Knew You Were Trouble" -- she calls it "brilliant" -- and that she also loves the "unexpected songs and artists" who got lots of airplay, including her buddy Ed Sheeran , The Lumineers and fun.
One song she singles out for special praise is the top 10 hit "I Love It" by Swedish duo Icona Pop . "I'm also absolutely smitten with [it]," she gushes. "It's the way reckless abandon sounds in my head. I play it right before I go on stage."
Copyright 2013 ABC News Radio