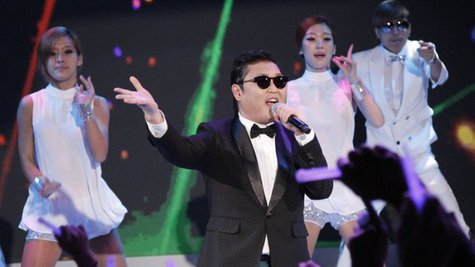 South Korean rapper PSY can't be dismissed as a one-hit wonder anymore: the success of his single " Gentleman " has taken care of that. And PSY says that basically, the only reason he released that song was to prove that he was more than just the "Gangnam Style" guy.
"The goal was avoiding to be called a one-hit wonder," he tells ABC News Radio, saying that his "maximum goal" on the song was to score 100 million views on YouTube and reach the top 10 on the Billboard Hot 100. Well, mission accomplished.
"The song has now already got 300 million views right now and I've been...#5 at Billboard already so I'm done with this song!" he tells ABC News Radio. "I'm relieved. I'm done."
So what's next for PSY? After all, he's already performed for the president, danced on stage with Madonna , appeared on every TV show, had his song performed on Glee ...what's left? Well, turns out there is something that he hasn't gotten to do in the U.S.: pack a stadium like he does back home in South Korea.
"My final goal as an artist and as an entertainer in this country [is] to make a similar size and excitement of [a] concert as Korea. That's what I've done. I wanna do that in this country as well," he explains.
There's also the matter of his debut U.S. album. While he's been releasing albums in Korea for a decade, PSY has yet to put one out in America, but he says he's so busy he doesn't know when he'll have the chance to complete it.
"I'm working on it and hopefully I can release [it] during the summer season," says PSY. "But with...[the success of] 'Gentleman,' I already have scheduled until, like, July, so I don't know if I have time or not." He adds, "I hope so and I'm really working on it right now...I gotta try."
Meanwhile, if you've been trying to figure out what "Gentleman" is about, the video gives a clue: it's about a guy who claims to be a gentleman, but is actually a boorish guy with no manners who doesn't know how to treat women properly.
"He's really a jerk," PSY says of the character he plays in the video. "Especially that scene [where] he fart[s] on his hand and pass[es] it to the lady -- that's nasty! That's so nasty!" He laughs, "You know, if you see the video...you can even smell that scene!"
Copyright 2013 ABC News Radio