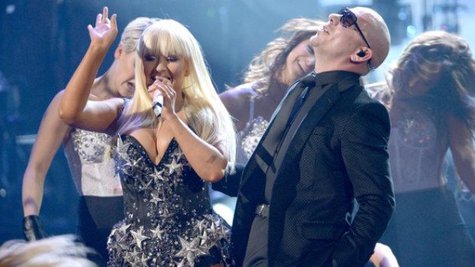 Pitbull has performed on Dancing with the Stars in the past, but this season, he's been an even greater presence on the show. His duet with Christina Aguilera , "Feel This Moment," was used as the show's theme song, and he even starred with the show's pro dancers in a custom TV ad for the season.
Pitbull says he loves the support Dancing with the Stars has given him over the years, noting that the show has been "a phenomenal part of our career." He adds, "They've always given us a platform to be able to promote music and music is a universal language. When people dance -- no matter where you're from or what you do -- if you're a good dancer, people enjoy it, you know. Same thing with music."
Pitbull says he sees many parallels between music and dancing, because they both make you "feel the moment," so to speak.
"When they're out there dancing, that is definitely a moment, you know, and you can't fake it," he explains. "It can't be fabricated. You see the chemistry between people and that's the same way we feel, I would say, about a record. It's a marriage that I make when I jump on a track."
Now that he's so entrenched with the ABC show, the obvious question is when is the rapper going to actually compete as a contestant? "They've asked me as far as on the dancing side of things," Pitbull confirms, but says if he does hit that ballroom floor, it won't be any time soon.
"I think it's something that down the line i would definitely entertain. I love to dance. I love to have a great time but as for now, we're gonna stick to dancing on the stage."
Fans will see Pitbull dancing onstage this summer when he and Ke$ha kick off their joint tour on May 23.
Copyright 2013 ABC News Radio