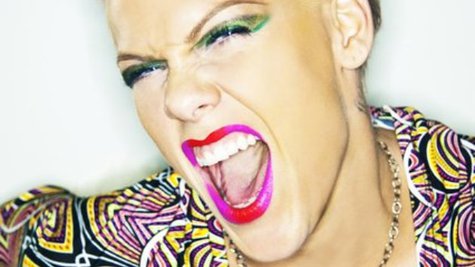 Gwyneth Paltrow is somewhat of a polarizing figure these days: Star magazine declared her the most "hated" celebrity, and others seem to resent her for, basically, being a beautiful, rich, talented woman who's married to a rock star. How dare she? Well, Gwyneth should know that she's got one outspoken celebrity in her corner: Pink.
After the Oscar-winning actress declared that she didn't enjoy attending the Met Gala -- THE social event of the season in New York City -- saying it was "so un-fun," "boiling" and "so crowded," and declaring she was "never going again," she was criticized, but Pink stepped up and defended her on Twitter.
Referring to the fact that the theme of the fashion-conscious event was "Punk," Pink tweeted , "I think Gwyneth Paltrow is pretty PUNk for saying that the punk met gala sucked. Hahaha I love her. One of the nicest people I've ever met."
Pink also used Twitter to thank her husband, Carey Hart , on Sunday for making it possible for her to celebrate Mother's Day. "Thank you...for giving me the greatest gift of my life, my reason to celebrate today," she wrote , posting a picture of her holding the couple's daughter, Willow Sage .
Copyright 2013 ABC News Radio