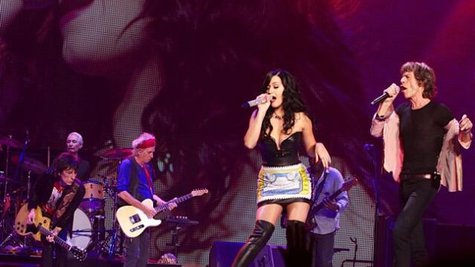 On Friday, Las Vegas reporter Robin Leach tweeted that Katy Perry would join the Rolling Stones onstage during their show at the MGM Grand Arena in Las Vegas on Saturday. On Saturday, the Stones themselves confirmed it, and that evening, Katy did just that, duetting with iconic frontman Mick Jagger on the Stones' classic "Beast of Burden."
Katy tweeted that she was "much obliged and honored" to be jamming with the legendary rockers, and after the show, she added , confusingly, "Yes, I just did gyrated on Mick Jagger. WHAT?!" When someone pointed out that the grammar in that tweet was "appalling," Katy replied, "I noticed that. I guess I was too excited. Sorry mom."
The Stones also have welcomed Gwen Stefani and Keith Urban , among others, to the stage during their current 50 and Counting tour, celebrating five decades of being, as they're often called, "The World's Greatest Rock 'n Roll Band."
Copyright 2013 ABC News Radio