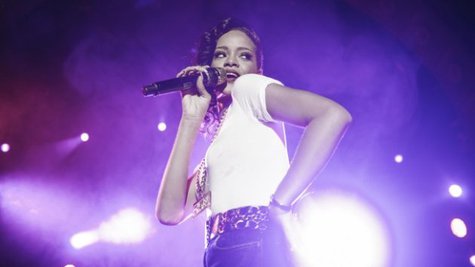 Rihanna's movie debut in Battleship wasn't well-received, but that isn't stopping a Hollywood producer from announcing he wants to cast her in his movie about the legendary singer, actress and dancer Josephine Baker .
The production company Noosa Films has announced that it has acquired the movie rights to Baker's autobiography, and the movie's producer, one W. Lance Reynolds , says that Rihanna is his first choice to play the iconic star.
In a statement, Reynolds says, "Rhianna is one of the most talented performers of this millennium and with her unique acting and performing abilities I have no doubt she will bring Josephine back to life on the big screen."
Baker was a fascinating character, to say the least. World-famous during the twenties and thirties, she was the first African-American woman to star in a major motion picture, and the first to perform for an integrated audience in concert. Born in the U.S., she eventually became a citizen of France, and was decorated by the French government for her work as a spy during World War II. She also worked for the U.S. Civil Rights Movement.
Baker's personal life was equally as fascinating. Married four times, she didn't have kids of her own but eventually adopted 12 multi-ethnic children, all of whom lived together in a castle in France. Really. Baker died in 1975.
Copyright 2013 ABC News Radio