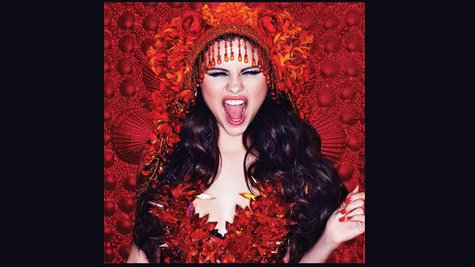 After Justin Bieber and Selena Gomez split up, he recorded a mournful ballad about it called "Nothing Like Us." And while the couple appears to be back together, Selena is still planning to release HER breakup ballad, on her upcoming album Stars Dance .
Speaking to InStyle magazine for the June issue, Selena says the song, called "Love Will Remember," is "the most personal track on the record for sure," adding, "I think it's a sweet way of releasing it. It's not an aggressive approach to what people are probably expecting." She adds, referring to Justin, "I'm sure he'll love it too."
According to InStyle, the song, which the magazine describes as "heartfelt and calculated," chronicles the end of a relationship, with Selena wondering what went wrong. But the magazine says the lyrics seem to suggest that either the breakup wasn't her idea or, if it was, it was because she had no choice.
Selena also talks about the difficulties of two major pop stars being romantically involved with one another. Describing her relationship with Justin as "crazy and intense," Selena adds, "It's uncomfortable that everywhere I go, people know. I don't like that. But Justin and I never really focused on the attention. You can't help who you date."
She notes that the one thing she would like in any future relationship is "honesty," adding, "You have to have honesty when you're living this lifestyle because of the distance imposed when working -- you are separated so often. You have to be super-honest and open. That is key." Hmmm.
As she usually does in interviews, Selena also discusses her strong bond with Taylor Swift , noting that they became "best friends" because they "dated the Jonas Brothers at the same time." She says of Taylor, "She's the one I call when I'm having any sort of sadness. She's very nurturing and protective."
Copyright 2013 ABC News Radio