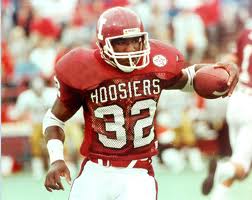 Former NFL running back and Terre Haute North grad Anthony Thompson will be inducted into the Indiana High School Football Hall of Fame.
Thompson set three school records in his three years as a starter for the Patriots. He rushed for 3,816 yards on 505 attempts and scored 36 touchdowns from 1983-1985.
He went on to play college football at IU and finished runner-up to Houston quarterback Andre Ware for the Heisman Trophy in 1989.
Thompson was selected in the second round of the 1990 NFL draft by the Phoenix Cardinals.
Anthony Thompson's number 32 is the only jersey number retired for the Indiana Hoosiers.