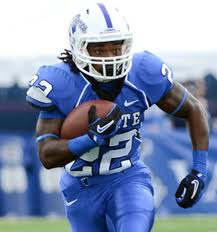 This fall will be Shakir Bell's senior season and experts expect him to perform well.
Bell is projected as the 7th best running back in the 2014 NFL draft.
Bell compiled 1,475 yards on 269 attempts while averaging 5.5 yards per carry last season and finished in the top 15 nationally in voting for the FCS National Offensive Player of the Year Award.
If selected next year Bell will be the first ISU player selected in a NFL draft since Dan Brandenburg in 1996.