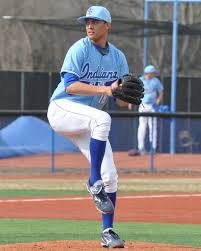 Indiana State pitcher Sean Menaea was named to the USA Baseball's Midseason Golden Spikes Award Watch List on Thursday.
Menaea is one of 60 players from around the nation on the list.
The ISU junior is 5-3 on the season with a 1.57 ERA. He's struck out 72 batters in 57.1 innings while allowing only 39 hits and 10 earned runs in just 9 starts.
Manaea is 30 strikeouts away from breaking Casey Whitten's 20 year old record.
He enters this weekend's series against the Purple Aces with 269 K's.
Other notable pitchers to win the Golden Spikes Award include Mark Prior in 2001, Jared Weaver in 2004 and Tim Lincecum in 2006.