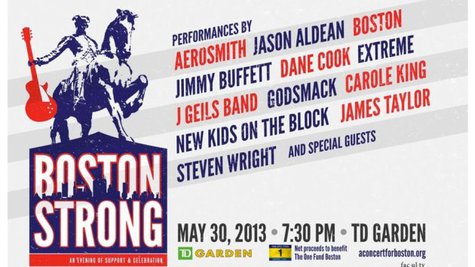 Some of Boston's best known acts -- and more -- are coming together in support of the victims of the Boston Marathon bombings.
Boston Strong: An Evening of Support and Celebration , will take place at the TD Garden on Thursday, May 30, and will feature New Kids on the Block , Aerosmith, legendary singer-songwriters James Taylor, Carole King and Jimmy Buffett, country star Jason Aldean , classic rockers The J. Geils Band and Boston , and hard rock bands Extreme and Godsmack . Comedians Steven Wright and Dane Cook are also on the bill.
All proceeds from Boston Strong: An Evening of Support and Celebration will go to The One Fund Boston, which was established by the governor of Massachusetts and the mayor of Boston to help those affected by the April 15 bombings.
In a statement, Donnie Wahlberg of New Kids on the Block said, "Like so many other proud Bostonians who have been extremely generous, we are honored to step up and do our part to help the victims and their families. Hopefully this event will not only raise money, but spirits as well." New Kids member Joey McIntyre actually ran in the marathon that day, and crossed the finish line just a few minutes before the bombings.
Tickets range in price from $35 to $285, and go on sale Monday, May 6 via LiveNation.com and Ticketmaster.com. For more information, visit AConcertforBoston.org .
Copyright 2013 ABC News Radio