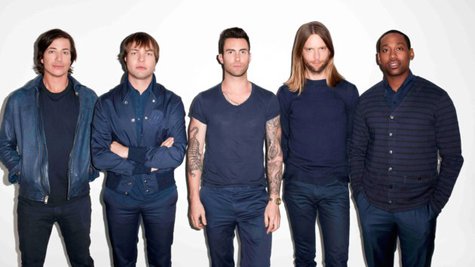 Maroon 5 's album Exposed has so far produced three massive hits: "Payphone," "One More Night" and "Daylight." Now, the band's keyboard player says another one is on the way.
PJ Morton tells ABC News Radio says the band's next single will be "Love Somebody," a song that singer Adam Levine co-wrote with, among others, Ryan Tedder of OneRepublic . "I think it could be another big one," says P.J. "I mean, it's a special song. It's fun live. We did a very cool video with it."
Ah yes, the video. According to PJ, it involves all the members of the band being completely covered in blue paint. "We were all painted up," he reveals, "But I guess what's going to happen in the video is you're just going to be able to see the paint, and not us, playing and performing." It wasn't a pleasant experience, according to PJ.
"I had the paint all over my body. It was not cool because it got all in my mouth and it didn't taste good," he laughs.
So far, there's no word on when we'll be able to see this video, but "Love Somebody" is coming out later this month. Maroon 5 will perform at the New Orleans Jazz & Heritage Festival on Friday, and then head to Europe for some dates. In August, they'll kick off the Honda Civic Tour with Kelly Clarkson , and one of the opening acts will be none other than...PJ Morton. The keyboard player has his own solo career and his latest album, New Orleans, featuring Adam Levine and Stevie Wonder , is due May 14.
"That's gonna be awesome because I'll be doing double duty, and opening and closing with Maroon," says PJ. "I'll be tired because I'm doing two shows, but...it's going to be fun. I can't wait. And I appreciate the band and Kelly allowing me to do some of these shows on this tour."
Copyright 2013 ABC News Radio