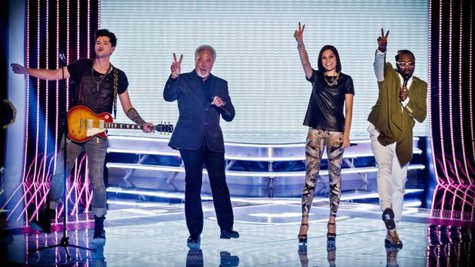 Last week, the fourth season of The Voice kicked off with all four judges -- Adam Levine , Shakira , Usher and Blake Shelton -- jamming out on the Beatles classic "Come Together." Now, you can compare that with the four-judge jam session from the U.K. edition of the show, which returns for a second season on Saturday.
The judges for the U.K. edition, who are all returning for their second stint on the show, are Jessie J , will.i.am , Danny O'Donoghue from The Script , and legendary singer Tom Jones . They all hit the stage for a version of the oldie "Long Tall Sally" by Little Richard , with Jessie doing much of the heavy lifting.
Because the blind audition episodes were recorded in advance, Jessie J is sporting her normal black bob. Currently, she's bald , having shaved her head live on British TV for charity.
While The Voice UK isn't actually telecast in the U.S., you should be able to catch most of it online in some form or another after it airs, if you want to compare it to the American version.
Copyright 2013 ABC News Radio