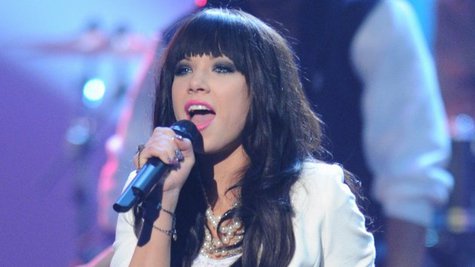 Nicki Minaj collaborated with Justin Bieber on his song "Beauty and a Beat." Now, it appears as though the rapper and American Idol judge is working with Justin's protegee, Carly Rae Jepsen.
Scooter Braun , who manages both artists, tweeted , " @carlyraejepsen @N ICKIMINAJ exciting stuff," which Carly then retweeted. It's not clear what's going on between the two but if we had to guess, we'd say Nicki may be doing a verse on a remix of Carly's new single "Tonight I'm Getting Over You."
In other Carly Rae Jepsen news, she and Kelly Clarkson have been booked as headliners for the "Stadium of Fire," an annual July 4 event held in Provo, Utah at Brigham Young University's LaVell Edwards Stadium. The event is generally attended by about 40,000 people and televised live to more than a million members of the U.S. military via the Armed Forces Network.
The Utah paper The Salt Lake Tribune questioned if Carly would be welcomed at the event because its audience is largely conservative, and Carly has recently stated her support for gay rights, and also will headline a major gay event this weekend in Palm Springs. Asked to comment, the event organizers, America's Freedom Festival, told the paper that they "respect all freedoms, including freedom of speech."
Copyright 2013 ABC News Radio