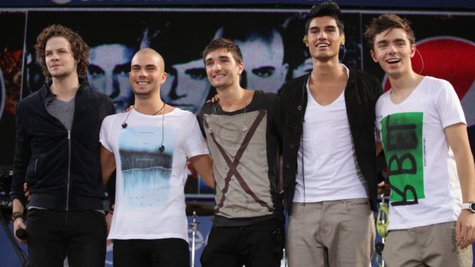 Last year, One Direction was invited to perform at the White House Easter Egg Roll, but they couldn't make it. But this year, the British boy band quota will be fulfilled by The Wanted , who've been tapped to perform at the annual egg-citing event. On April 1, The Wanted will roll into Washington D.C. for the Egg Roll, the largest annual public White House event.
The Wanted join a lineup of performers that includes Jordin Sparks and American Idol runner-up Jessica Sanchez , who will sing the national anthem. Several YouTube phenoms will also be featured at the White House gathering including Robby Novak , better known as Kid President , and Austin Mahone , who went from posting videos of himself singing online to landing an opening slot on Taylor Swift's RED tour. Other guests include Oscar-nominated actress Quvenzhané Wallis and NASCAR's Danica Patrick .
The event will center around the health and wellness theme, "Be Healthy, Be Active, Be You!" and will include sports courts, storytelling and celebrity cooking demonstrations from several master chefs. Fans can watch the 135th annual festivities online at WhiteHouse.gov/EasterEggRoll .
In other Wanted news, the video for their new single "All Time Low" will hit Vevo at 7 p.m. ET, but you can watch it streaming on E! Online right now. The track was previously a huge hit for them in the U.K. and Wanted member Tom Parker tells E!News, "For me, personally, it's my favorite song that we've ever done." The group's E! reality show The Wanted Life debuts in June.
Copyright 2013 ABC News Radio