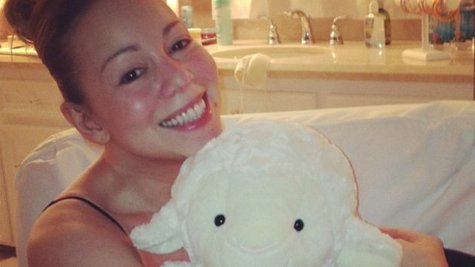 Mariah Carey turned 43 on Wednesday, but when the folks on American Idol tried to publicly wish her happy birthday that day, she refused to acknowledge them. That doesn't mean, though, that Mimi's birthday -- or "anniversary," as she prefers to call it -- went uncelebrated.
The New York Post reports that Mariah and hubby Nick Cannon were spotted out to dinner at Wolfgang Puck's restaurant Cut in Beverly Hills on Wednesday night. The two were with about a dozen other people, including fellow judge Randy Jackson . Nicki Minaj and Keith Urban, however, were nowhere to be seen.
An onlooker told the Post , "It was quite a low-key dinner. Mariah drank champagne and shared the signature banana cream pie for dessert."
Mariah may want to ignore the fact that she's 43, but she should be happy that she doesn't look it. She's been getting rave reviews for a makeup-free photo she posted on Instagram on her birthday, which showed her clutching a big stuffed lamb, in a nod to her nickname for her fans who she calls "Lambs" or, collectively, "The Lambily."
Under the photo she wrote, "Love to all the lambily!!!" and added the hashtag #WWLD, which means "Worldwide Lamb Day," another term she likes to use for her birthday.
Copyright 2013 ABC News Radio